'Festival of lights' is the time for sweets, and celebrations, and for loved ones . With all the beautifully lit lamps and firecrackers bursting about, it comes with firework-related injuries every year.
Every year thousands of eyes fall victim to defective firecrackers or reckless handling . It is important to learn how you can protect your eyes and vision and avoid any Diwali accidents.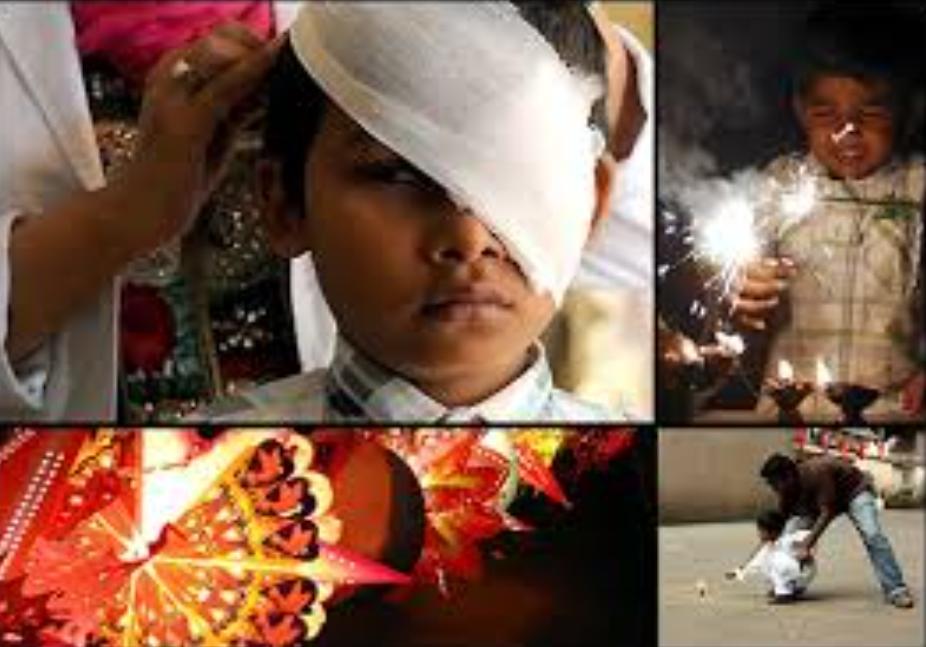 1. Use Protective Glasses
It is recommended that one wears protective glasses while bursting firecrackers. Protective glasses not only provide protection against any excess heat but also can deflect the flying debris
2. Avoid Contact Lenses
People who wear eye lenses need to be extra cautious, as the smoke from the fireworks can cause irritation. It is advisable to remove contact lenses and wear spare glasses while lighting up Diyas or firecrackers.
3. Keep Safe Distance
One should keep your arm outstretched and face away while trying to ignite a cracker.
4. Care for Irritation
In case of any irritation or itching caused by the smoke or any tiny particle in your eye, the first thing to remember is to not touch it or rub your eyes with your hands. Rubbing eyes with fingers can scratch the surface of the eye and can cause further damage. The best way is to splash water on the face and eyes in an attempt to flush out the impurities. This provides immediate relief.
5. In Case of Injury
In case of an emergency, such as unbearable pain or irritation, due to firecracker debris or heat , an immediate response is crucial to protect vision and prevent irreversible damage. It is then advisable to visit a local doctor at the earliest.
Some basic rules one must follow for eye injury prevention from any Diwali accidents.
DOs :
• Always supervise children playing with firecrackers.
• Burst crackers in an open environment.
• Use firecrackers bought from licensed dealers and approved brands.
• Keep a bucket of water and sand handy to douse any loose flames.
DO NOTs :
• Avoid using unbranded firecrackers.
• Do not try to treat any injury on your own; rush to find a doctor immediately.
• Do not let young children and especially toddlers anywhere near firecrackers.
• Do not try to reignite a firework that didn't work at the first place. Wait at least a few minutes before going anywhere near it.
• Do not ignite crackers while holding in hands or pointing them towards someone.
IT IS ALWAYS GOOD TO CELEBRATE BUT FOLLOWING THESE TIPS CAN LET YOU HAVE A SAFE DIWALI. STAY SAFE, KEEP YOUR EYES HEALTHY.